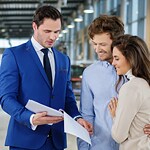 Looking for a used vehicle? If so, you should make sure you know what you want, and what you don't want, ahead of time.
Have a particular price limit? Don't allow a sales associate intimidate you into spending more than you are able. Sure, the car may look great and have features that you love, but with time and effort you may be able to find a similar car for a better deal. In addition to having a set budget, you should also go into the dealership with a good idea of what you are looking for. The body type, color and style can be helpful for a sales associate to know so that they are then able to guide you to a selection of vehicles that can fit the bill.
In summary, when buying used it is important to go in with a game plan. Knowing the kind of car you want as well as how much you can afford ahead of time is likely going to score you a great deal on the perfect vehicle for you.